FREELANCE BEGINNING
I started out freelance and I remain freelance.
I started studying multi-media close to it's birth, in 1996. The program I took at Humber College (Multimedia Specialization), was in it's infancy. During college, I worked at the media centre and I began freelancing for companies that would call the college looking for things like websites and interactive presentations.
When I graduated (with honours), I decided that working freelance was for me, and I never looked back. I have worked freelance in the Toronto area since then and I have had a steady roster of clients. My skills and talents have grown over the years and I continue to learn at the pace of technology.
My main strength is the fact that I have many skills, and they are always expanding. I am not just a designer. I am not just a coder. I am both and all these years working freelance, has allowed me to grow stronger in both areas.
Adobe PhotoshopAdobe IllustratorAdobe In DesignAdobe FlashAdobe After EffectsAdobe PremiereAdobe Media EncoderAdobe CaptivateCamtasiaMicrosoft PowerpointMicrosoft ExcelGULPGit HubBitbucketSublime Text
Design/Branding

WordPress

Joomla

PHP Programming

MYSql Database Management

Flash Animation

Javascript programming

HTML/CSS

Adobe After Effects, Premiere

JQuery Animation
I've been successfully freelancing since 1998 after achieving an honours diploma in Multimedia Design
I'm a talented designer who is often "creative lead" in projects and in charge of projects from concept to completion
I'm a skilled programmer fluent with many front-end applications as well as integration to a database (php/mysql)
I design, build and deploy websites to an online server; i set up domains and hosting for clients
I have created high-end concepts for brands like IBM, CIBC, McDonalds, Nortel, Kia and many more
I have experience working alone, part of a team and as team lead
I have been a part of large roadshows as team lead and as on-site support
• development and maintenance of custom and CMS based websites
• skilled with html, CSS, SASS, jQuery, PHP (mysql)
• skilled with responsive web design and development (various frameworks)
• fluent with many html editing applications, manual coder
• experience hosting for clients, setting up databases, php applications
• maintenance of websites along with renewal and transfer of domains from registrar
• skilled with various CMS systems (WordPress, Joomla, Hubspot, Shopify)
• ability to design and develop custom templates and themes
• talented video editor, special effects artist, skilled with compression
HTML
PHP/MySQL
CSS
SASS
jQuery
Javascript
WordPress
Hubspot
Shopify
Joomla
AS2,AS3
GULP
Sublime Text
• Art Director and Creative Director for many projects over the years
• Experience with corporate branding and logo design
• Experience designing for all mediums (web, interactive, kiosk, print, video, branding)
• Often design UI for websites and interactive kiosks based on established brand
• Expert with all Adobe Creative Cloud/Suite products
Adobe Photoshop
Adobe Illustrator
Adobe In Design
Adobe Flash
• Adobe Flash (AS2, AS3) and Captivate
• talented special effects artist and video editor exceptional sound editing skills
• experience editing for cd, web and broadcast (linear & non-linear)
• skilled at digitizing, editing, adding effects and exporting video
• advanced with Adobe After Effects and Adobe Premiere as an editing package
• skilled with integrating video online
Adobe After Effects
Adobe Premiere
Adobe Media Encoder
Adobe Captivate
Camtasia
Adobe Flash
Adobe Edge Animate
• Adobe Flash (AS2, AS3) and Captivate
• Expert with touchscreen kiosk development and setup
• experience programming complex interactions that are database driven
• experience developing e-learning courses and touchscreen kiosks
• skilled with video in flash, updated with the latest codecs and streaming technology
• performed all roles in presentation development from creative direction to development
• talented sound editor with stock music collection and music contacts
• fluent with Powerpoint, having experience using it onsite in very large productions
Adobe Flash
Adobe Captivate
Microsoft Powerpoint
Microsoft Excel
Adobe Edge Animate
Want to work together?
I am always on the lookout for new clients and exciting new projects.   Let's talk and see if I am good fit for your next project.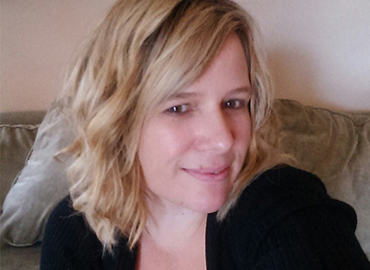 Stacey Boardman
Freelance Creative Designer and Developer